(In Game Description)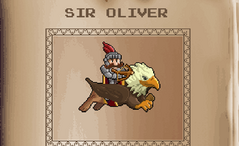 The hero of legends in the land of Valiantskies, Sir Oliver is the epitome of justice and fairness. He's always the first to volunteer for dangerous missions and that trait has earned him quite a name among the people of the realm. Taken notice of by the king when he slew a giant Troll that was terrorizing farmlands, he was appointed as the general of Valiantskies. He has fought in countless wars, saved cities from evil wizards... But he had never before faced a dragon. Until then, his life could never be complete. Fortunately for him, he was called upon when a dragon attacked the city and took the princess away. That was his chance to finally complete his resume. Defeat a dragon, fall in love with a princess... His final missing achievement would be to defeat himself, but that was impossible to happen.
Ad blocker interference detected!
Wikia is a free-to-use site that makes money from advertising. We have a modified experience for viewers using ad blockers

Wikia is not accessible if you've made further modifications. Remove the custom ad blocker rule(s) and the page will load as expected.