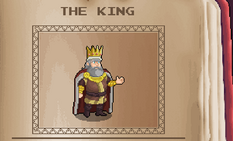 (In Game Description)
The king descends from a family of nobles from a distant land. He came to the realm with his father when he was just a child. His father was the first king of Valiantskies. When he inherited the throne he led his subjects to a good and peaceful life, until the dragon attacked. After losing his daughter and his kingdom's stability he was devastated. But his daughter came back safely in the arms of the hero of the realm. He quickly married them together... And secured the future of the kingdom.
Ad blocker interference detected!
Wikia is a free-to-use site that makes money from advertising. We have a modified experience for viewers using ad blockers

Wikia is not accessible if you've made further modifications. Remove the custom ad blocker rule(s) and the page will load as expected.